Morning all. Today I though I`d bring you an interview, or rather press conference with Stephan Lichsteiner, given at the Press Hall at Formello yesterday. Did my best for good translation.
=====================================

Stephan, tell us how are you feeling, you had an examination yesterday..?
"Today it is difficult to tell how I feel, I feel my muscles are a bit tired. I am working good, we`ll see during the week but overall I hope to be available for Sunday`s match".
Do you believe that you can reach the Champions League?
"Of course, if we didn`t we would have stayed at home, we are playing well, we have excellent players. It is a possible dream and until now we have done well despite the criticism and we are in course for the Champions League"
What the critics have not learned as to how well is this Lazio doing ?
"If you lose at home to a team which is less stronger than we are on paper, arguments immediately arise, but this type of criticism does not serve. In Serie A, there are no easy matches. It is a lack of respect for us who work hard during the week and we are telling anyone that we have a good team. We are not interested what the others say, we have found the appropriate mentality for winning and playing for higher positions on the standings."

In you national team, did you joke with  Ziegler about his potential perspective with Lazio?
"I did not joke, in fact I was very serious. I have talked to him because I would like that he comes to Rome and I believe and hope that he too likes the idea. We`ll see what happens"
Lazio is great with strong teams and small with smaller teams, how so?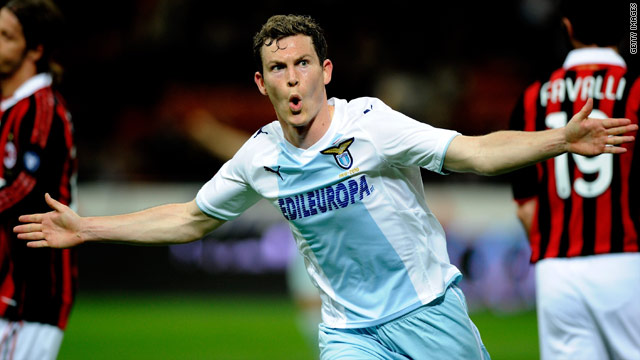 "Ever since I came here, we have suffered with smaller teams. With less stronger teams we have to play the game and this puts us in difficulty. With stronger teams we have more space and we express ourselves better. Having on your team players who are capable of scoring from a set piece is a good advantage as it allows you to break the deadlock in many matches."
You are here for three years now, you have lived through good but also bad moments in Rome. Do you think this is your best season with Lazio?
"It is difficult to say, last year due to many reasons we fought a great deal to save from relegation but in this season we are doing great and I hope we will finish even better. As far as I am concerned, I continue to work hard and wish to always do better."

Defense is Lazio`s strongest department this year. What is the secret behind this excellent performance ?
"For sure we are doing quite well behind, but it is worth noting that the entire team is doing well, we only have to improve in unblocking matches when playing weaker opponents"

Do you think Kozak is important for you?
"Yes, he is tall player thus making him valuable for us in particular for set piece situations. He is doing very well but I can`t tell how far will he arrive, he has the qualities and if he keeps going this way he will reach far"
What is the best praise for Reja?
"He has great merits, ever since he is here we have earned a lot of points. He has established a very united group, even at difficult times we manage to react together, we are not much more a team than we used to be"
At difficult moments with Ballardini, have you though of leaving Lazio?
"No, I am no one that runs away from the difficulty. I have never thought of leaving. Of course if there would have been choices to make, I would have made mine without problems, but this is now past and I look forward"
A comment of yours for  "tata" Gonzalez after his excellent performance against  Brescia?
" He is a great professional who labored in silence even when he did not play. He had an excellent match vs Brescia and I am happy for him and for the entire team"